About Harlem Tours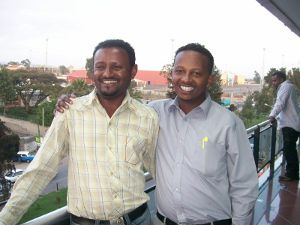 The tourism industry has become very important in today's economic world. Ethiopia has many breathtaking cultural, geographical and historically significant sites to attract tourists. If you do not know where to go, where to stay or what to see, having an insightful and well-organized professional tour operator is essential for your experience in Ethiopia.
Harlem Tours and Car Rental was established to provide a professional, reliable and outstanding service for tourists. Our purpose is to provide you with an enlightening and beautiful experience of Ethiopia.
As a tourism professional, we had much experience handling large tours inside Ethiopia and in other places. The staff and owners of Harlem Tours and Car Rental are eager and ready to serve our visitors with a qualified and full-expertise service. In addition, we are pleased to enhance Ethiopia's economy, the living standard of the people and live out our passions for tourism. Our professional guides lead tours in English, Spanish, German and French.
Why 'Harlem'?
First Ethiopians Travel to America
As African Americans fixed their gaze on Ethiopia, Ethiopians also traveled to the 'New World' and learned of the African presence in the Americas. In 1808, merchants from Ethiopia arrived at New York's famous Wall Street. While attempting to attend church services at the First Baptist Church of New York, the Ethiopian merchants, along with their African American colleagues, experienced the ongoing routine of racial discrimination. As an act of defiance against segregation in a house of worship, African Americans and Ethiopians organized their own church on Worth Street in Lower Manhattan and named it Abyssinia Baptist Church. Adam Clayton Powell, Sr. served as the first preacher, and new building was later purchased on Waverly Place in the West Village before the church was moved to its current location in Harlem.
Custom-tailored Tours
In addition to our regular tour itineraries, Harlem Tours and Car Rental offers custom-tailored tours to suit clients' individual needs. Ethiopia has a lot to offer and HTC is prepared to show you all around this great country.
Our services include:
Holiday/Vacation tours and travel
Business tours and travel
Study/Educational tours and travel
Car/Vehicle hire (rental) services
Excursions
Mountain and desert trekking
Birding
Honeymoon vacations
Other services are available upon request. For more details, please contact us.
Meet the staff
| | |
| --- | --- |
| Melaku | I believe that nature has given us a wonderful gift no matter where we are. I love the wonder of the world. That is why I trained at Lion Ethiopia Tourism Hotel Management College to be a professional Tour Operator. I have 6 years of experience in the tourism sector. I love both sharing this marvelous land of Ethiopia and learning about other cultures through visitors from all over the world. I have loved getting to know different people and my love for Ethiopia continues to grow as well. My favorite place to visit in Ethiopia is Bale Mountain National Park. |
| Dereje | I see the unique opportunity as a Tour Operator to care for other people, and this has driven me to this profession. I graduated from the Lion Ethiopia Tourism and Hotel Management College and joined different tour companies, but the experiences I had through my employment at Kingdom Vision International (orphanage) provided me with an opportunity to share this love for others from different continents. Through my career in the tourism industry, I have loved sharing about Ethiopia - a land of immense nature, culture, history and of course, beautiful people with ready smiles. The Semien Mountains are my favorite place to visit, and I love to eat Tibs (a popular Ethiopian culinary delight). It is my dream to visit Hawaii in the future. |
| Fiseha | I have worked in almost every corner of Ethiopia in my ten years of experience as a tour guide, and I have made priceless friendships with many tourists from various countries. Tourism is an enduring passion for me. I love visiting Lalibela, eating injera with shiro, and watching the endemic bird Prince Ruspolis Turaco. I would enjoy visiting the Grand Canyon in the United States. |