About Ethiopia
Ethiopia is the oldest independent nation in Africa with a history dating back more than 3000 years. Ethiopia had strong trade relations with Greece, Rome, Persia and Egypt. Axum was the capital of the great Ethiopian empire and the Axumite kingdom was known as the most powerful state between the Roman Empire and Persia. Much earlier records show that the Egyptians knew the area to lie somewhere south in the land of Punt, also known as the land of the Gods. Later, Egyptians sailing to India and back stopped at the Red Sea port of Adulis, which served as Axum's main outlet to the sea, just south of Massawa. Axum went to decline between the 7th and 8th century AD, when power moved to the new Zagwe dynasty in what is now Lalibela. Around 1000 AD, King Lalibela (a member of the Zagwe dynasty) seized the Ethiopian throne. When his rivals began to increase in power, Lalibela sought the support of the powerful Ethiopian Orthodox church by building the rock-hewn churches in this small town. His goal was to create the New Jerusalem for those who could not make a pilgrimage to the Holy Land.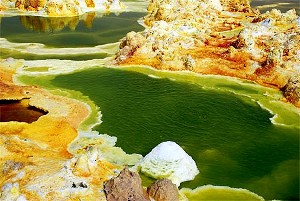 After the decline of Lalibela in the second half of the 13th century, and the consequent power transfer from the Zagwe rulers to the Solomonic line of rulers, Gonder was established by King Fasil as a permanent capital in the 1636. Gonder remained the capital for 200 years.
Ethiopia is a land of contrast from the tops of the rugged Semien Mountain to the depths of the Denakil depression at 120 meter below sea level. The cornucopia of natural beauty that blesses Ethiopia offers an astonishing variety of landscapes, including Afro-Alpine high land mountains, the splendor of the Great Rift Valley, whitewater rapids, savannas teeming with game, giant waterfalls, dense and lush jungle… the list is endless.
Ethiopia's many national parks enable visitors to enjoy the country's scenery and wildlife, and offers opportunities for travel adventure unparalleled in Africa.
The wildlife consists mainly of the East African plains animals: oryx, bat-eared fox car acal, aordvark, colobus, green monkeys, Anubis and Hamadryas baboons, klipspringer, leopard, bushbuck, hippopotamus, kudu and 450 species of birds. All of these magnificently conserved animals in their natural habitats live within the park's 720 square kilometers.